This is theater without the safety net.
The Funhouse Lounge is an arts-centric lounge in the Central Eastside of Portland located at the corner of SE 11th and Division. A modern cabaret of sorts, a place to enjoy a drink and some good eats while being entertained. Voted one of "Portland's Weirdest Bars" by The Oregonian. We have a truly unique blend of entertainment including dance nights, stand up comedy, burlesque, improv, karaoke, storytelling, bingo, plays, and so much more. With one foot planted firmly in the tradition of theatre and the other leaping forward into the future, we are pushing the limits of what theatre "is" or "should be." Each and every show is unique and above all else FUN! Join us for some laughs.
Andy Barrett: Artistic Director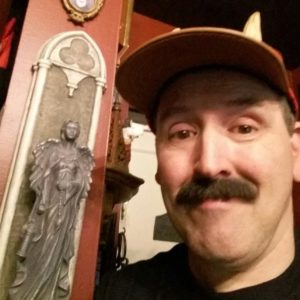 Andy Barrett has been performing and teaching improv for over 25 years. He was a founding member of numerous improv groups, including San Diego Comedy Sportz and San Diego Theatresports, where he also served as Producing Director. He has studied under Keith Johnstone (Calgary), Randy Dixon (Seattle), Barbara Scott (San Francisco), and Dan O'Connor (Los Angeles). A veteran of over 1000 shows, he is also a master instructor in both short form and long form improv. He served as Artistic Director of PIG (Portland Improv Group) from 2008-2010, bringing a fresh and innovative approach to the Portland theatre landscape. He co-founded Portland improv group The Unscriptables. His directing credits include "Reservoir Dolls" at Funhouse Lounge.
---
Contact Us
For press inquiries, booking requests, info on classes, or just to say hi, please contact us using the form below.